Item# ACS550-U1-125A-6 – Drive, AC, 100HP, 575V, 99.0A, CT, N 575Vin 3PH 125HP 125A VT 35.0″Hx11.9″Wx15.8″D ACS550
CALL NOW TOLL FREE: 1-800-681-7374
ABB ACS550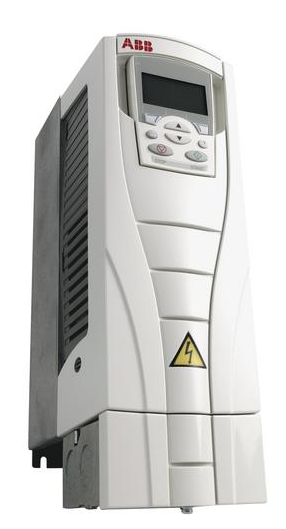 The ABB ACS550 standard drive can be used in a wide range of industries. Typical applications include pump, fan and constant torque use, such as conveyors. The ABB ACS550 standard drive is ideal for those situations where there is a need for simplicity to install, commission and use and where a lot of customizing or special product engineering is not required.
The ABB ACS550 standard drive is a very simple to select, install, configure and use ABB vfd drive, saving considerable time. The drive has common user and process interface with fieldbus, common software tools for sizing, commissioning, maintenance, and common spare parts. Typical applications can include pump, fan and constant‑torque use, such as conveyors. Other important features are: Easy installation & trouble‑free start‑up, an Advanced control panel permitting intuitive operation, a Patented swinging choke for superior harmonic reduction, Integral EMC filter for 1st environment as standard, Built‑n Modbus & numerous internally mountable fieldbus adapters, UL, cUL listed and CE approved.
Specifications for ABB ACS550-U1-125A-6
Item Number: ACS550-U1-125A-6
Brand: ABB
Item Category: Drives
Subcategory: AC
Series: ACS550
Nominal Input VAC: 575 Volts AC
Input Range VAC: 500 to 600 Volts AC
Input Phase: 3
Application: Industrial
HP (CT): 100 Horsepower
Amps (CT): 99 Amps
HP (VT): 125 Horsepower
Amps (VT): 125 Amps
Max. Frequency: 500 Hertz
Braking Type: DC Injection;Dynamic Braking Transistor Optional (External)
AC Line Regenerative?: No
Closed Loop: Optional
Motor Control-Max Level: Open Loop Vector (Sensorless Vector)
Operator Controls: Keypad Included
Enclosure Rating: NEMA 1;IP21
Comments: Advanced Control Panel incl. graphic backlit display capable of displaying 3 values or bar graphs.
Mounting: Panel
Frame Size: UX1-6
Package: ACS550R6IP21
Picture Number 2: ACS-CP-A
Height: 35 Inches
Width: 11.9 Inches
Depth: 15.8 Inches
H x W x D (in.): 35 x 11.9 x 15.8
Net Weight: 152 lb
SES are authorized ABB distributors, of the; ABB ACS550, and the, ABB 550 VFD.
You can reach our sales department at 1-800-681-7374.