THE QFE OPTIMISING SOFT STARTER
Whether a robust, fully featured Soft Starter is all you have in mind, or a sophisticated controller with Communications links is closer to the mark, the powerful and flexible QFE range has the product to suit your needs.
CALL NOW TOLL FREE: 1-800-681-7374
Fairford Electronics QFE-44 Soft Start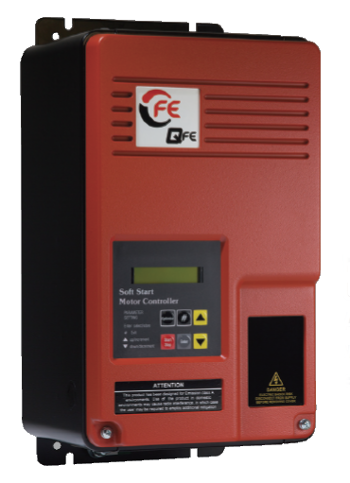 Technical Specs:
Model Name
Fairford Electronics QFE44
Ie (Arms)
44A
Short Circuit Amp RMS (kA)
5
UL Recognized JFHR2 Fuses
Bussman International Inc. Mod. No.
170M3114
Ferraz Mod. No. 6.6 URD followed by
30 D08A 0160
Amps
160
QFE – THE CRITICS CHOICE FOR CRITICAL APPLICATIONS
Many industries are process dependent. In these industries, the cost of an unscheduled stoppage or shutdown due to controller failure is many times the cost of the failed equipment. The build quality of the QFE gives peace of mind to the plant engineer who can fit and forget – safe in the knowledge that the integrity of his critical application is secure.
RELIABILITY – OUR MOST IMPORTANT FEATURE
Along with quality, connectability, flexibility, competence and technical advancement the QFE range has it all. Now you can fit and forget with these new fully compliant Soft Starters. Designed and rigorously tested to the exacting design standards listed opposite, the QFE naturally meets the CE requirements as well.
FEATURES
Continuous display of motor phase current &
control status
Easily changed parameter settings via keypad
Peak starting current recording
User adjustable overload
Last 5 trips recording
110/230V control supply
User selectable built-in application specific
settings
Isolated control inputs – 24V DC 110/230V AC for
start/stop or user programmable
Current limit time out – optional trip or continue
Undercurrent trip level and delay:
0-1 x FLC
Adjustable optimising response rate
Adjustable starting current limit control
Separately adjustable ramp up/down times
from 1 sec to 240 seconds
Adjustable kick start for high break away
torque applications
Fully adjustable pedestal voltage
User adjustable shearpin
Control of resistive loads
In Delta operation
Thermistor trip input
4-20mA input for monitoring
DC input for monitoring
Communications
IP 20 Rating
DESIGN STANDARDS AND APPROVALS
IEC 60947-4-2:
Standard for AC Semiconductor
Motor Controllers and Starters
EN 60947-4-2:
European Standard for AC
Semiconductor Motor
Controllers and Starters
Models QFE and QFE-G:
UL508
United States Standard for Industrial Control
Equipment
See this Fairford Electronics QFE product on our Fairford Soft Starters site here: Fairford Soft Starters
CALL NOW TOLL FREE: 1-800-681-7374