CALL NOW TOLL FREE: 1-800-681-7374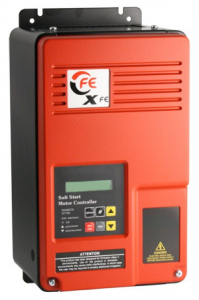 Fairford Electronics XFE-134K – 55kW, 128A Energy Optimising Soft Starter
Description:
Fairford Electronics XFE100 Series Digital Soft Start for a 230/400V 3 Ph motor up to 55kW (75hp) continuous at 128A, subject to application.
Rated to suit motors and Trip Class Ratings:
55kW, 116A at 400V – Trip Class 10B (Continuous)
55kW, 128A at 400V – Trip Class 10 (Continuous)
55kW, 99A at 400V – Trip Class 20 (Continuous)
45kW, 96A at 400V – Trip Class 30 (Continuous)
(see Trip Class Guide below for definitions)
Size 1: 222mm Wide x 195mm Deep x 420mm High. IP20.
Weight: 8.3kg.
Features include:
Integral keypad
Start Time: 1-255s
Stop Time: 0-255s
Overcurrent Protection (does not replace full thermal overload protection).
Energy Optimising: In certain load conditions the XFE can reduce energy costs by reducing power required by the load, without loss of performance.
Input Voltage: 230-460V, 400-575V or 500-690V AC Three Phase -15% +10% at 50-60Hz ± 2Hz
Requires Single Phase 115V or 230V AC rms (-15% +10%) supply for the internal control circuitry.
Wall mount in clean environment or cubicle mount.
Ventilation space above and below: 75mm
Ventilation space at sides: 15mm
Ventilation space in front: 25mm
Mounting via 4 x M6 bolts at rear on 125mm x 380mm centres.
Rated at 40C Ambient.
Full part number is XFE-134K (XFE134K)
The Fairford Electronics XFE is capable of starting parallel-connected motors simultaneously provided each motor has similar characteristics and load.  For such configurations the unit rating should be at least the sum of the current ratings of all the motors.
Alternatively, the Fairford Electronics XFE can start and stop motors sequentially using bypass contactors under the control of the programmable relay set as a 'Top of Ramp' relay. The dual setting feature allows for the control of motors with different start-up requirements.  Details on multiple motor applications can obtained via your supplier.
See this Fairford Electronics XFE product on our Fairford Soft Starters site here: Fairford Soft Starters
CALL NOW TOLL FREE: 1-800-681-7374