CALL NOW TOLL FREE: 1-800-681-7374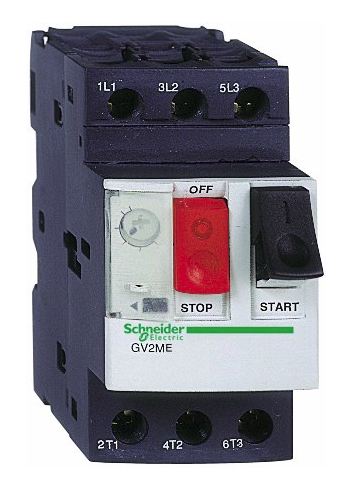 Telemecanique Motor starter GV2ME20
GV2 devices are 3-pole, horsepower-rated manual starters. They include a manual disconnect, Class 10 thermal overload relay and an instantaneous magnetic trip mechanism in one compact unit. Either GV2M (Pushbutton) or GV2P (Rotary handle) models can be used alone for control of a single motor or in groups of several starters with only a single branch circuit protective device needed for the entire group (ref. NEC Article 430-53).
Breaking Capacity : 3 kA @ 690 V
Current Range : 2.5 to 4 A
Depth : 78.2 mm
Dimensions : 89 x 45 x 78.2 mm
Length : 89 mm
Number of Poles : 3
Series : GV2ME
Terminal Type : Screw
Voltage Rating : 690 V
Width : 45 mm
Purchase your telemecanique vfd, telemecanique drives, schneider telemecanique, vfd drives from Specialized Electronic Services now.
CALL NOW TOLL FREE: 1-800-681-7374